If you have a chance to stop over at Mimbi Caves you won't regret it. This magic location is 202km west of Halls Creek and 90km east of Fitzroy Crossing.
Kristy recently visited Mimbi Caves and stayed for the night. The camp site is very clean, has flushing toilets, hot showers and a great camp kitchen with a BBQ, as well as a big communal fire at night.
In the morning Kristy did the Mimbi Caves Tour with Ronnie. It was a fabulous time, checking out the caves, the Devonian Reef geology, marine fossils, Indigenous rock art and we enjoyed some funny jokes, guitar playing and songs from Ronnie around a camp fire with damper and hot tea.
Kristy encourages travellers to get out there and support local indigenous communities who are passionate about sharing their culture and heritage.

We are thrilled to share the photos Kristy took while on her tour and at the Mimbi Campground.

Book your tours online or pop in and see us at the Broome Visitor Centre to learn more about Mimbi Caves. You can also book at the Fitzroy Crossing Visitor Centre.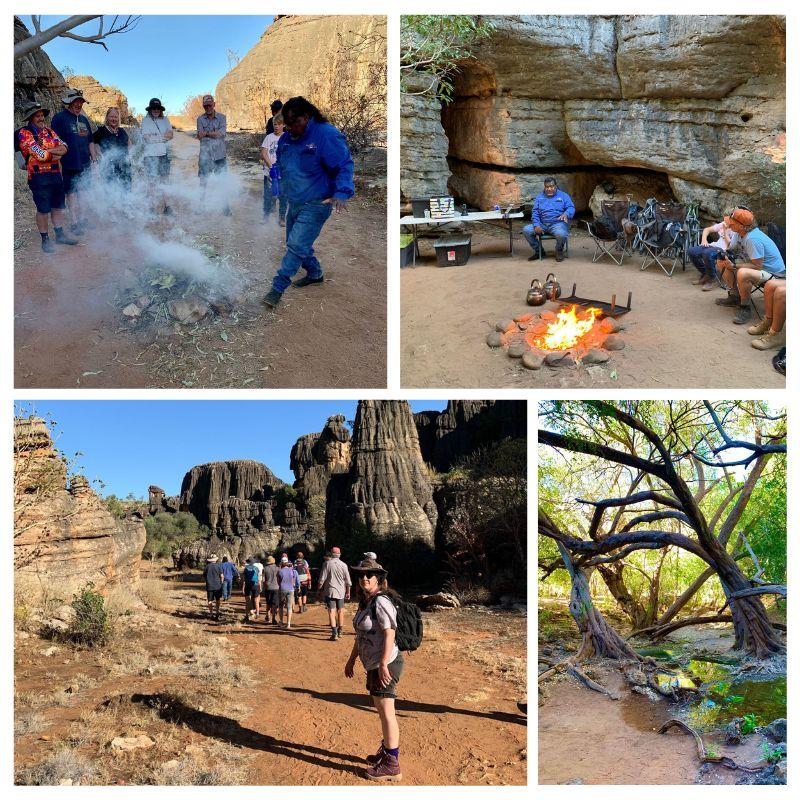 WHY ARE MIMI CAVES SO SPECIAL?
The ancient labyrinth of the Mimbi Caves holds many hidden secrets, not only of the Devonian Great Barrier Reef that was formed over 350 million years ago, but also of one of the oldest surviving cultures on Earth. Amongst the striking limestone formations, you'll see some of the best preserved fish fossils in the world, and an extensive collection of Aboriginal rock art.
Make the 90-minute drive east of Fitzroy Crossing and join the Girloorloo guides on an insightful two and a half hour tour of Mimbi Caves, starting with a walk between towering karst cliffs, stopping to taste bush tucker and traditional medicines. From the cave entrance, the Gooniyandi people will guide you by torchlight, revealing the speleothems, stalagmites, shawls, flowstones and sparkling calcite crystals, rock art and Dreamtime stories of this extraordinary subterranean world.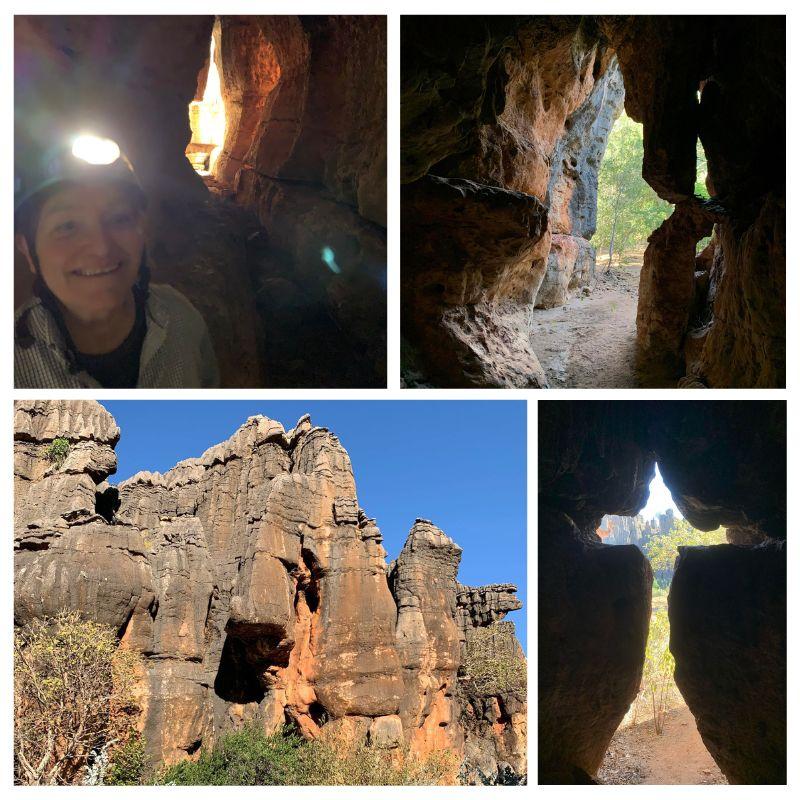 WHAT ARE THE MIMBI CAVES TOUR PRICES?

Adults $90
Concession $70
Children $45
Family prices available too just enter 2 adults and 2 children to save $30) (prices may change)


WHEN ARE TOURS AVAILABLE?
Tours are available Mon - Fri 8am and 2pm, Sat 8am only. (availability may change)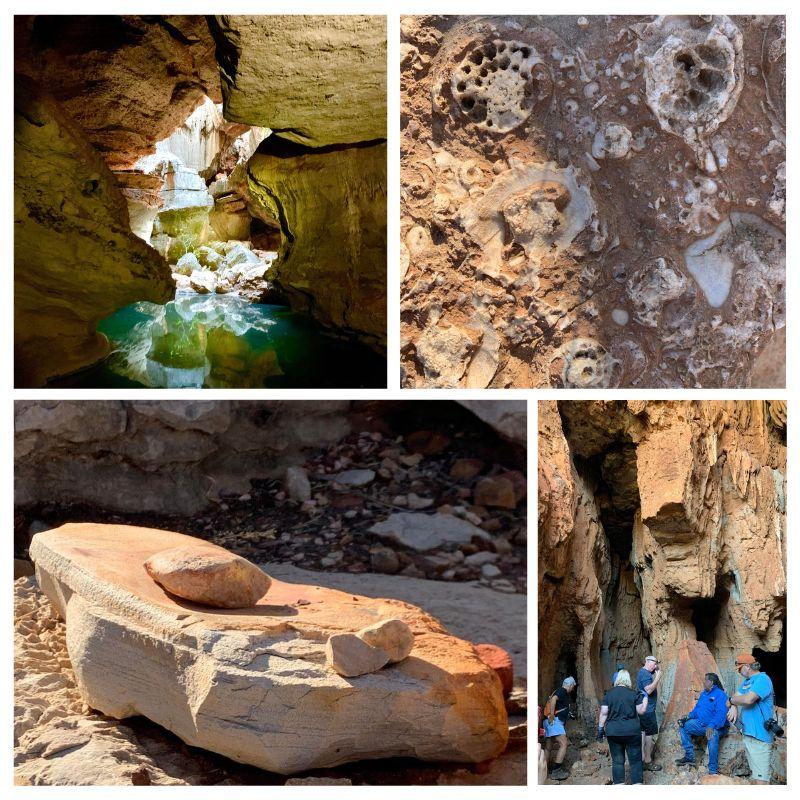 WHAT TIME DO THE MIMBI CAVES TOURS START?
Morning: 8am Mon­day - Sat­ur­day dur­ing the sea­son (meet at the turnoff to the caves 7:45am).
Afternoon: 2pm Mon­day - Thurs­day and Sat­ur­day dur­ing the sea­son (meet at the turnoff to the caves 1:45pm)
Dri­ve to the entrance to the caves and go on by foot with an Indige­nous Guide.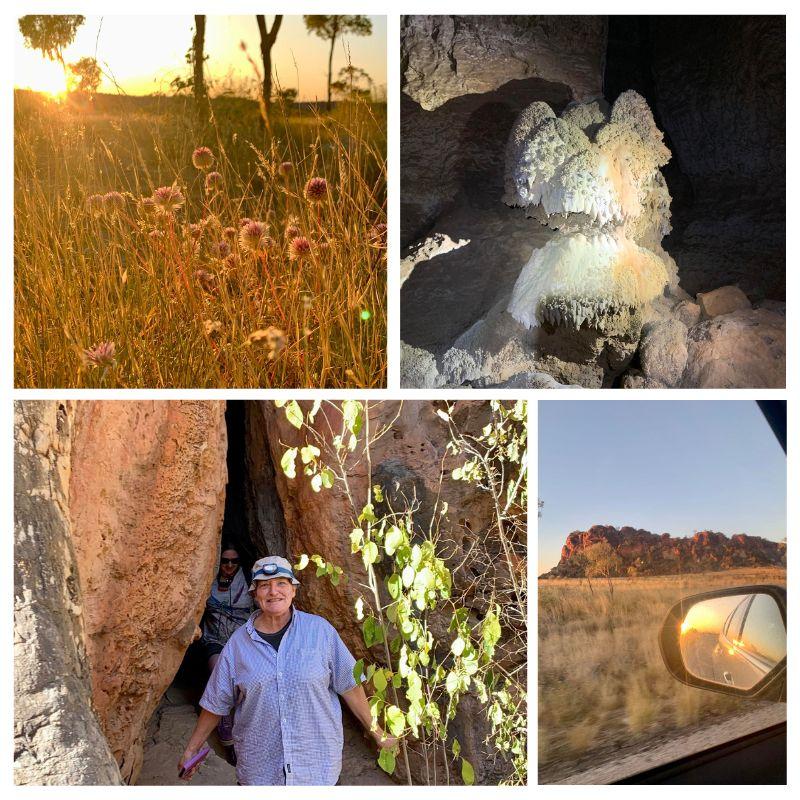 WHAT DOES THE MIMBI CAVES TOUR INVOLVE?
The tour requires walking/​standing for approx­i­mate­ly 2 hours. There are oppor­tu­ni­ties for elder­ly vis­i­tors to sit and rest on occa­sion. Most of the tour takes place in the cave sys­tem look­ing at the beau­ti­ful nat­ur­al fea­tures; often hand­held torch­es pro­vide only light. The walk into and through the caves can be uneven at times; while the guide can pro­vide some assis­tance you will need to be rea­son­ably con­fi­dent on your feet as falls can hap­pen. Those suf­fer­ing fear of close spaces and dark­ness need to be mind­ful of this. After the cave walk after­noon tea con­sist­ing of tea and damper is served at the entrance to the cave; cups, plates, uten­sils and seats are pro­vid­ed. Dur­ing morn­ing tea your guide will share sto­ries that will trans­port you back in time to when Abo­rig­i­nal peo­ple inhab­it­ed these caves.

DO I HAVE TO PRE-BOOK MY CAMPSITE?
For the Mimbi campground advance bookings (more than 24 hours) are NOT required. For campground enquiries please call 0477 355 671.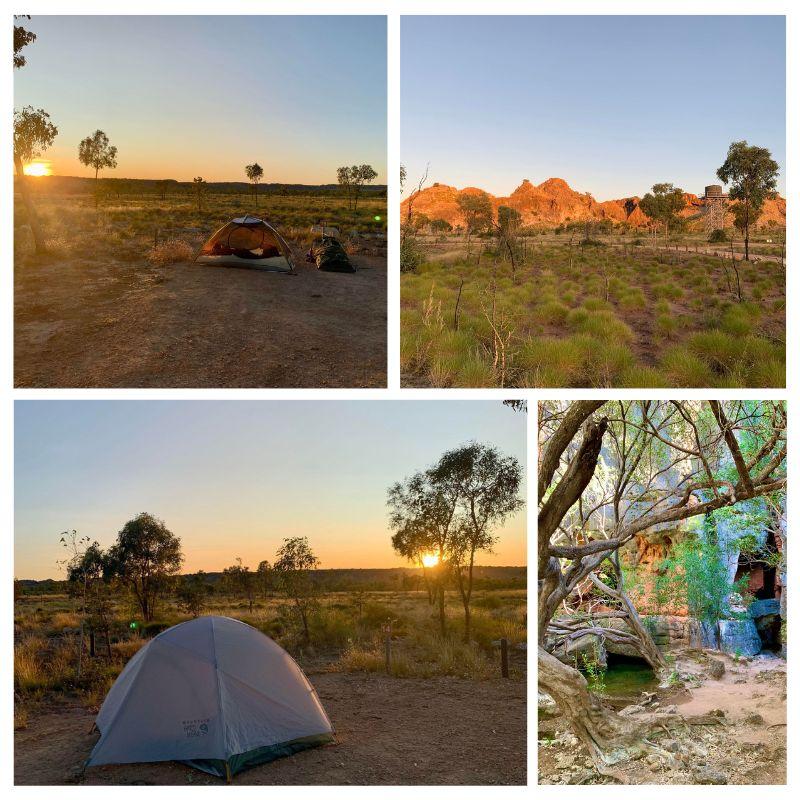 HOW MUCH DOES IT COST TO CAMP AT MIMBI CAVES?
Current Camp Ground Fees (updated March 2023 - prices may change without notice)
Adults $18.00
Pensioners $17.00
Children under 15 to 5 yrs $15.00
Under 5yrs Free
Family Rate:
Family of 4 $48.00
Family of 3 $45.00
Additional Children under 15 to 5yrs $5.00
Under 5yrs Free
WHAT IS THE GOONIYANDI NAME FOR THE CAMPGROUND?
"Jarlarloo Riwi"; Jarlarloo meaning Coolamon tree and Riwi meaning camp.

HOW LONG DOES IT TAKE TO DRIVE TO MIMBI CAVES FROM BROOME?
Mimbi Caves is 90km east of Fitzroy Crossing and 202km west of Halls Creek.
The trip from Broome is about 490kms (about 5 or so hours by road).
From Broome Google map
The trip from Derby is about 352kms (3.75 hours by road)
From Derby Google map
The trip from Fitzroy Crossing is about 90kms (just over an hour by road)
From Fitzroy Crossing Google map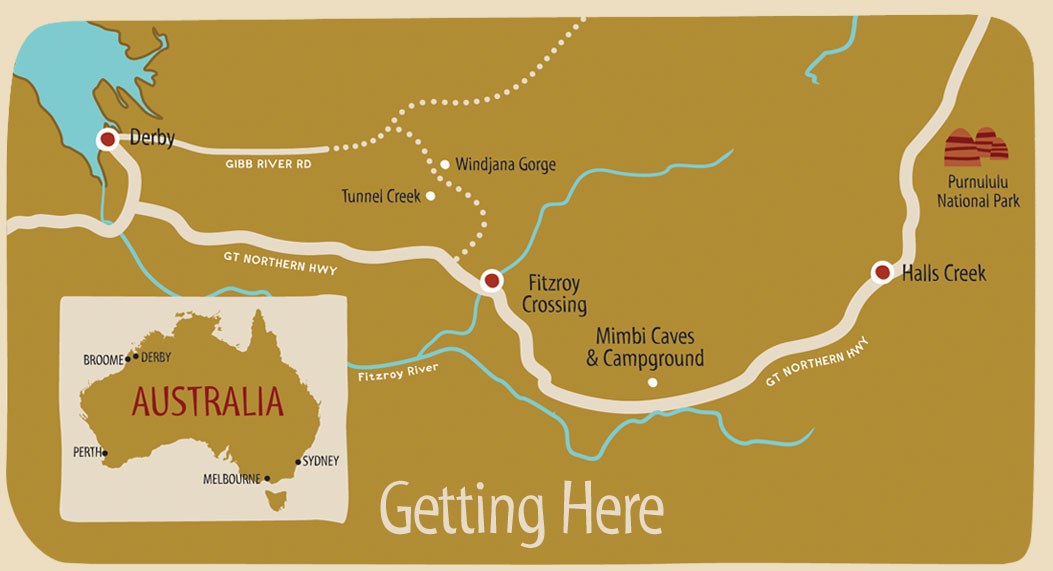 All photos are copyright to Kristy Goodchild and may not be reproduced without permission.