Are you looking for some fun things to do with the kids when you visit Broome?
We have produced this list of local events and places to visit to keep the kids entertained Broome. Whether you are holidaying in Broome with kids, or are lucky enough to live in Broome, we hope our suggestions below will give you some options (and a few might even be enjoyable for parents and caregivers too!).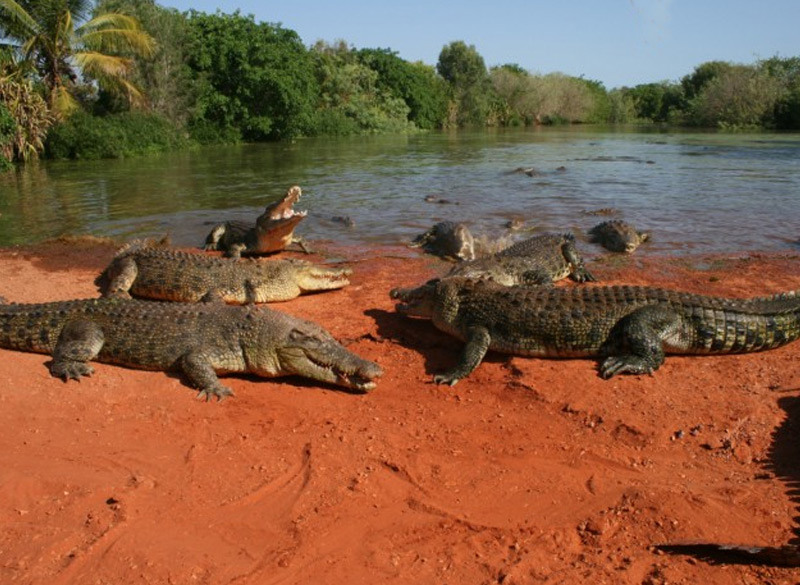 Visit the Malcolm Douglas Crocodile Park
Enter anoth­er world through the jaws of a giant salt­wa­ter croc­o­dile. The Mal­colm Dou­glas Croc­o­dile Park has some of the largest croc­o­diles in Aus­tralia set amongst large Kim­ber­ley lakes. The park is open 2pm - 5pm daily and the croc feeding begins at 3pm. The famous dai­ly feed­ing tour show­cas­es some of the largest croc­o­diles on dis­play in Australia. We suggest you bring your hat, camera, walking shoes, sunscreen and also bug spray. Vis­i­tors can pur­chase drinks and ice creams, whilst relax­ing in the out­door seat­ing area over­look­ing the nat­ur­al ​'Long Lake' system. Locat­ed only 15 min­utes dri­ve from Broome, this is one the kids will remember! The park is also home to birdlife, cassowary, kangaroos, wallabies, emus, jabirus, snakes and lizards.

If you are able to self drive, you can save time and pre-book online here.

We also have options for guided bus tours with both Broome and Around and on selected dates.



Little Red Dragons Kids Club is a FREE event every Tuesday only at Paspaley Plaza.
2.30pm - 4.30pm.
Lot's of fun, with a variety of crafts and games each week.
For the list of activities with dates head over to the Paspaley Plaza website
Location is 15 - 17 Carnarvon St, Chinatown.
Broome Recreation & Aquatic Centre
BRAC has a 25m swimming pool, a children's leisure lagoon with zero depth entry there is also an indoor stadium, two squash courts, eight tennis courts, four outdoor netball/basketball courts and two multi-use sporting fields. BRAC has something for everyone.
Location: Cable Beach Rd E, Broome - Contact number (08) 9191 8720
View the BRAC opening hours here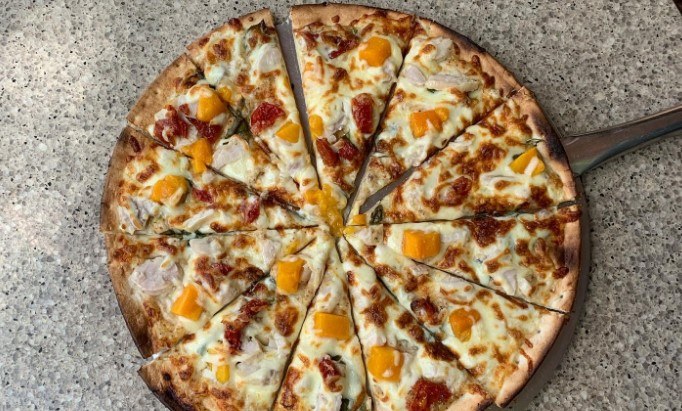 Woodfired pizzas at The Mango Place
The Man­go Place offers you a selec­tion of unique man­go prod­ucts, includ­ing home­made wines, ports, chut­neys, jams, vine­gars and yum­my desserts.
Open daily from 10am - 2pm (seasonal hours vary so check before you go!). The Man­go Place is set in a tran­quil trop­i­cal oasis, 18km north east of Broome. Play a match of chess whilst you sip on one of our delicious smoothies, or sample our wine. Go for a short walk through our mango trees and see if you can spot the range of different trees nestled amongst the mango trees. Over the holidays they will be firing up the pizza oven every day!
The woodfired pizzas are made from hand. Experience one of their signature Pizzas, like the Chicken and Mango 'Chango Pizza' or create your own! Download the pizza menu here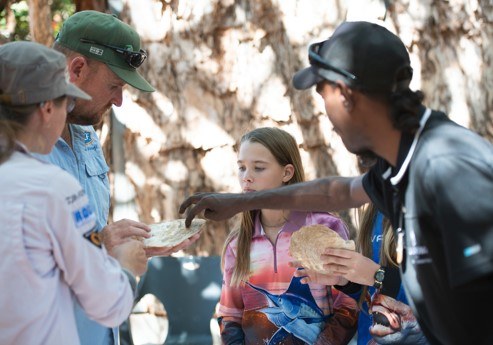 Take the kids on a cultural tour - fun and educational too!
Broome and the Dampier Peninsula is the place to immerse the family in the Aboriginal culture of the region. The sealing of the Broome-Cape Leveque Road has opened up accessibility to the Dampier Peninsula and many tour departiure points are now accessible by 2WD. Taking the kids on country is both memorable and educational, not to mention the characters and guides who will ensure your little ones have a great time. The Broome Visitor Centre has a variety of brochures and you can talk about the tour options with our staff. We have local town tours in Broome as well as pearling tours, heritage trails, guided walks and more. Browse our website to choose from a variety of First Nations led, owned and operated tours here.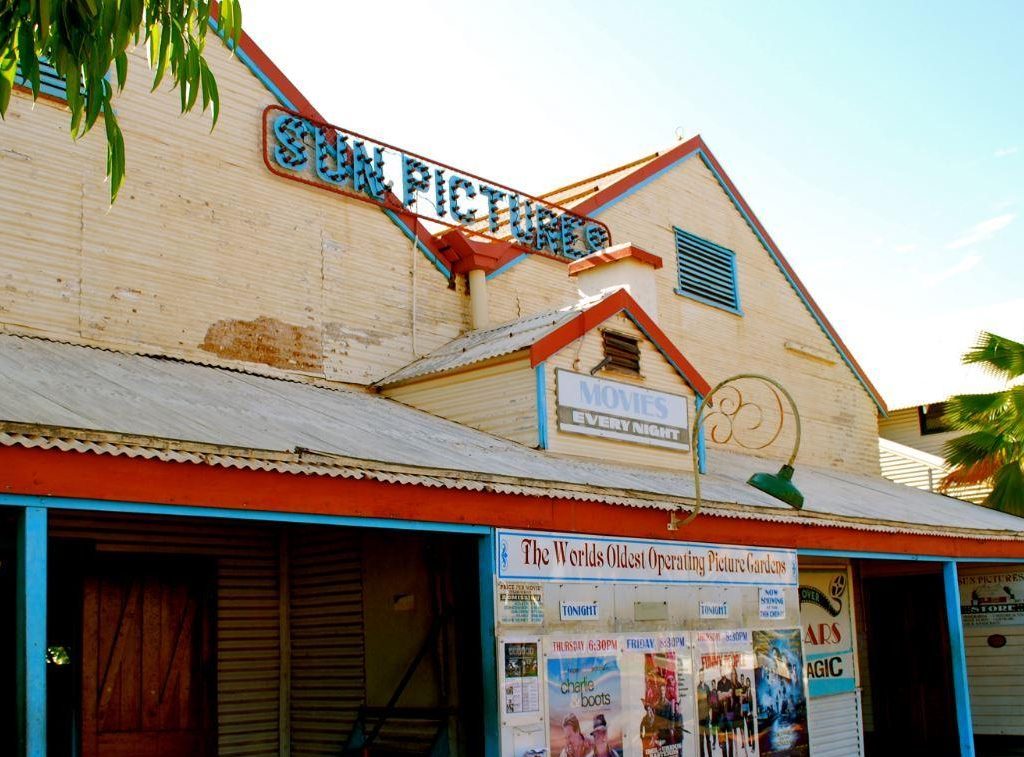 Catch a movie at Broome's outdoor picture gardens Sun Pictures.

You can browse what's on and pre-book your tickets online at www.broomemovies.com.au

Standard Prices
Adults - $18.50, Children (3-15 years) - $13, Pension/Concession - $14.50, Senior & DVA Card- $13
Family (2 adults, 2 children) - $55

Sun Pictures sell their homemade-choc bombs, ice creams, popcorns, lollies, snacks, soft drinks, alcohol at the kiosk - view the drinks menu here)
A few other things to know when you plan your visit to Sun Pictures

* Please note, beverages and snacks are NOT allowed in the cinema.
* You are welcome to bring your take-away dinner only.
* Tickets can be purchased when the doors open, about 45 mins before the first session, or online tickets on the website at www.broomemovies.com.au
The second session will start once the first movie has finished and the venue is vacated
* Seating consists of canvas deck chairs with some seats out under the stars and some under the verandah
* There is a grassed area at the front of the screen if you wish to take a blanket to sit on
* Sun Pictures has a small kiosk: EFTPOS is available
* Sun Pictures is a Licensed Venue - Alcoholic beverages can bought at the kiosk
* Mosquitoes and sandflies are present in the theatre and surrounds we recommend wearing appropriate clothing and bringing your preferred insect repellent. We provide complimentary use of repellent – Rid.
* June – August evenings can be chilly, we recommend you come prepared.
* The cinema is directly under the flight path for take-off and landing at the airport, patrons are advised that planes will make dramatic and loud appearances throughout the evening. Do not be alarmed.
Sun Pictures is located at 8 Carnarvon Street, Broome, WA 6725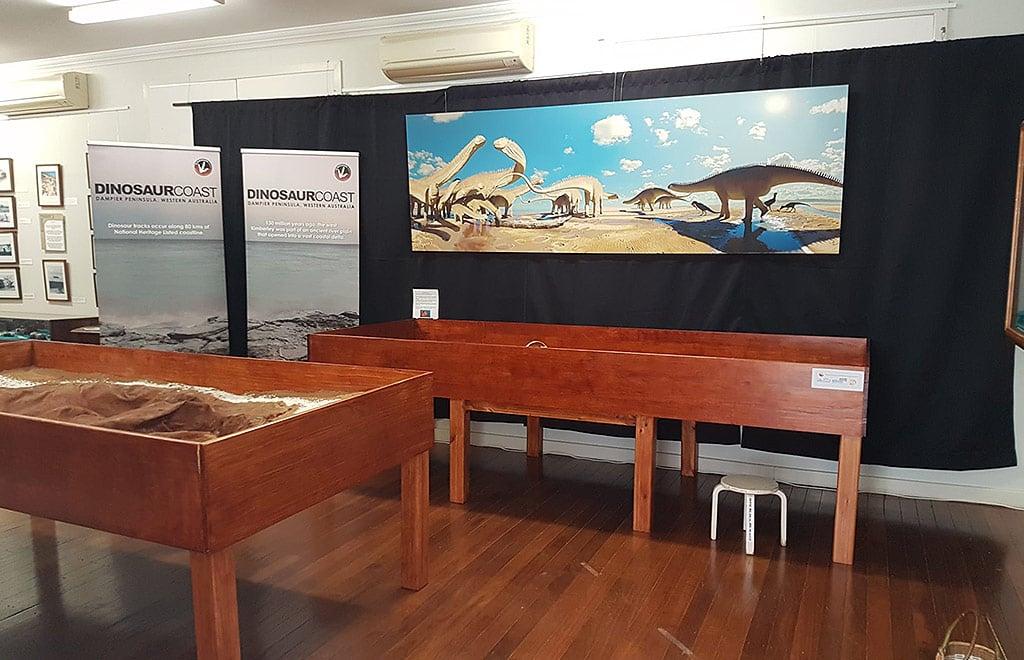 Take the kids to the Broome Historical Museum! Children under 16 are free!
10am-4pm Monday-Friday and 10am-1pm on weekends, the Broome Historical Museum has dinosaur displays, historical artefacts and lots of interesting things for kids to browse and learn about.
Dis­cov­er Broome's fas­ci­nat­ing past at the Broome His­tor­i­cal Museum. The museum is at 67 Robinson Street and is located just across the road from the Broome Explorer Bus stop.
Adults … $12.00, Seniors .. $8.00, Chil­dren under 16 .. FREE


Play mini golf at Cable Beach General Store & Cafe
Enjoy a round of 18 hole Mini Golf at the Cable Beach General Store & Cafe. Loca­tion: Cor­ner Mur­ray Road and Cable Beach Road – oppo­site Divers Tavern. Mini golf is open from 6am-8pm daily. You can also enjoy coffee, food and drinks from this popular cafe. Call 08 9192 5572 for more information or visit www.cablebeachstore.com.au


Enjoy a camel ride on Cable Beach!

Nothing quite beats a camel ride along Cable Beach. We have three operators providing camel rides in Broome, all of which can be booked online. Morning rides or pre-sunset rides are often suitable for those with young children, as these are a little shorter than the sunset camel rides. Lapsitters (ages vary across the different operators- Red Sun Camels 4 years and under, Sundowner Camels 3-5 years and Broome Camel Safaris under 5 years) ride with an adult, and we can help you choose the best option for your group. Weight limits do apply (individually and per camel) so please get in touch with us if you would like more information.
Enjoy a splash at the Town Beach water park and playground

The kids will love the water park at Town Beach (Guwarri). With a café nearby and beautiful spaces to explore and enjoy, this is one of the best ways to spend the morning, afternoon or all day! Pack your own picnic or enjoy food and drinks from nearby restaurants and cafes. This area is free to use and the nearby playground is a popular spot for those with little ones who need to expend some energy. You can also catch the Broome Explorer Bus to this spot! Read more about local Broome highlights here
The Shire's Water Park is located at the Town Beach Playground; on the southern end of Robinson Street, across from Pioneer Park.
Designed to be accessible to all children, the water playground encourages inclusive active play and consists of a misty twisty, whale tail sprayer, sneaky soakers and a froggy-o sprayer.

Water Park Opening Hours
Mondays: 8.30am – 5pm
Tuesdays: Closed
Wednesdays: 8.30am – 5pm
Thursdays: 8.30am – 5pm
Fridays: 8.30am – 5pm
Saturdays: 8.30am – 5pm
Sundays: 8.30am – 5pm
(correct at time of publishing - check as they may vary)

All children using the Water Park need to wear swimwear, and (if applicable) nappies.
The Shire's Water Park was made possible thanks to its funding partners; Lotterywest, Variety WA, Royalties for Regions and the Lionesses of Broome.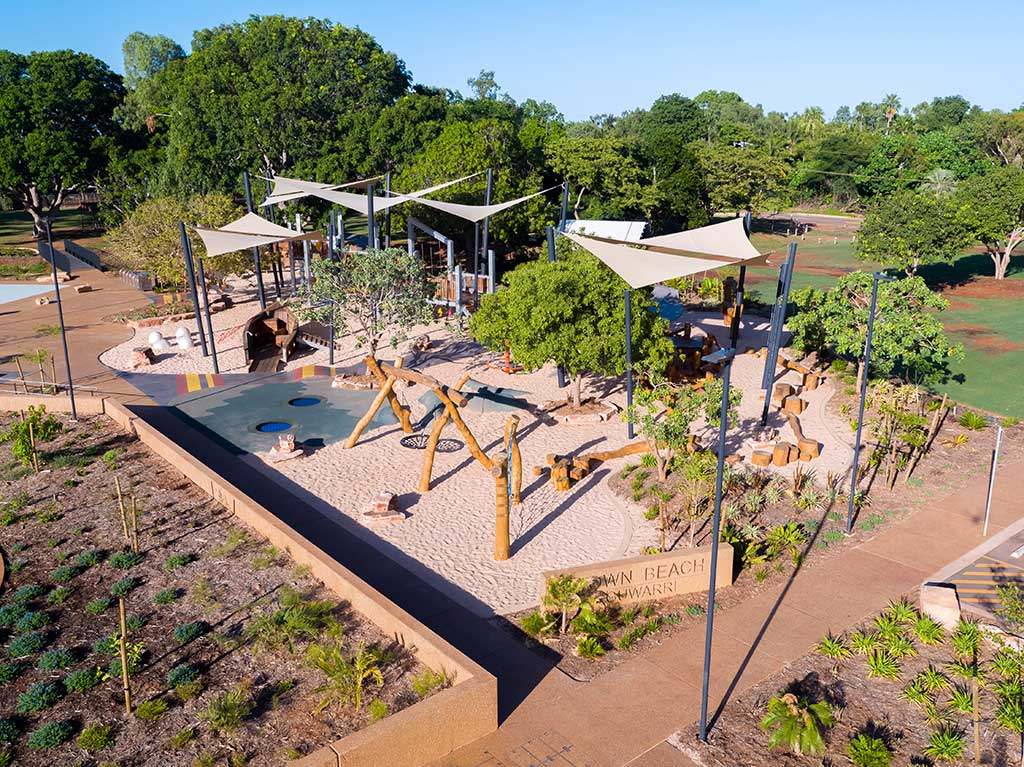 -----------------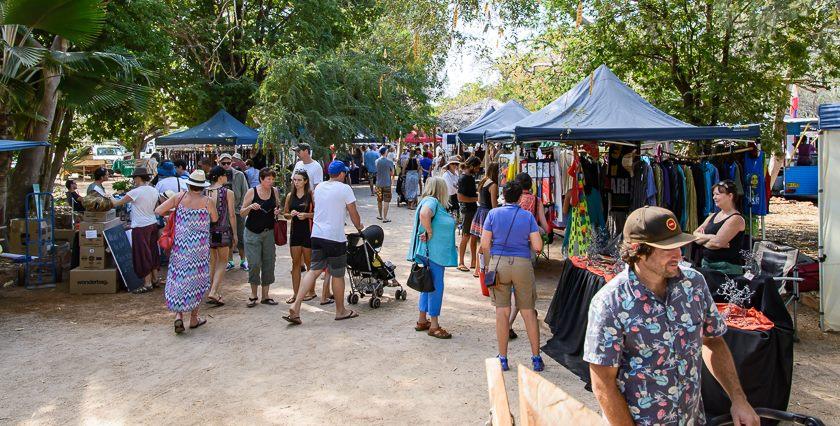 Browse the Broome Markets
The Thursday Night Market in Broome is a fantastic night out for the whole family at the spectacular Town Beach. Enjoy a great selection of food, shopping and often have live music. From 4pm - 8pm at Town Beach, Broome. The Thursday Night Markets are held at the Town Beach Precinct on Hamersley Street every Thursday night from from June to September. Entry is free.
The Broome Courthouse Markets are held on the weekends in the beautiful heritage listed gardens of the Broome Courthouse. Started over 25 years ago by a small group of locals wishing to trade local product, they have grown to become a major tourist attraction in Broome and host up to 115 creative stalls over the Dry Season.The Broome Courthouse Markets are located on the corner of Frederick and Hamersley Street in the beautiful and historical Broome Courthouse Gardens and entry is free.
Saturday Courthouse Market - Every Saturday of the year 8am – 1pm.
Sunday Courthouse Market - Every Sunday 8am - 1pm (between April and October)
Broome Markets often have an extra Night Market near the Staircase to the Moon dates as well!

FOR MORE LOCAL EVENTS - CHECK OUR ONLINE EVENTS CALENDAR

As always, the Broome Visitor Centre is happy to assist with information and booking services for a wide range of tours and experiences across Broome. Pop in and see us and pick up some brochures. We are located at 1 Hamersley St, Broome (just near Male Oval). View our current opening hours.
Note: Pricing or availability may change since this blog was published.