Easter weekend is a fun time to get out and enjoy Broome's vibrant venues with live music, see the Staircase to the Moon, checkout the Broome markets and indulge in our dining and drink options.

We have a list of local events this Easter Long Weekend for you to enjoy.
GOOD FRIDAY 15th APRIL
Matsos Live Music 1-4pm and DJ Alex from 4pm-8pm

EASTER SATURDAY 16th APRIL
Broome Courthouse Markets 8am 1 -pm
Massive Easter Goose Club at The Roey
RNB Easter Saturday! Feat. BLKOUT
Live Music at Matsos from 4pm-7pm with Dan Guidera

EASTER SUNDAY 17th APRIL
Broome Courthouse Markets 8am - 1pm
Bouncing Castle and live music 1pm-4pm and Sunday Sesh from 4pm til late
Staircase to the Moon 6.09pm - Town Beach



EASTER MONDAY 18th APRIL
Staircase to the Moon 6.55pm - Night market at Town Beach from 4pm
Broome Easter Monday: COVID Vaccination Clinic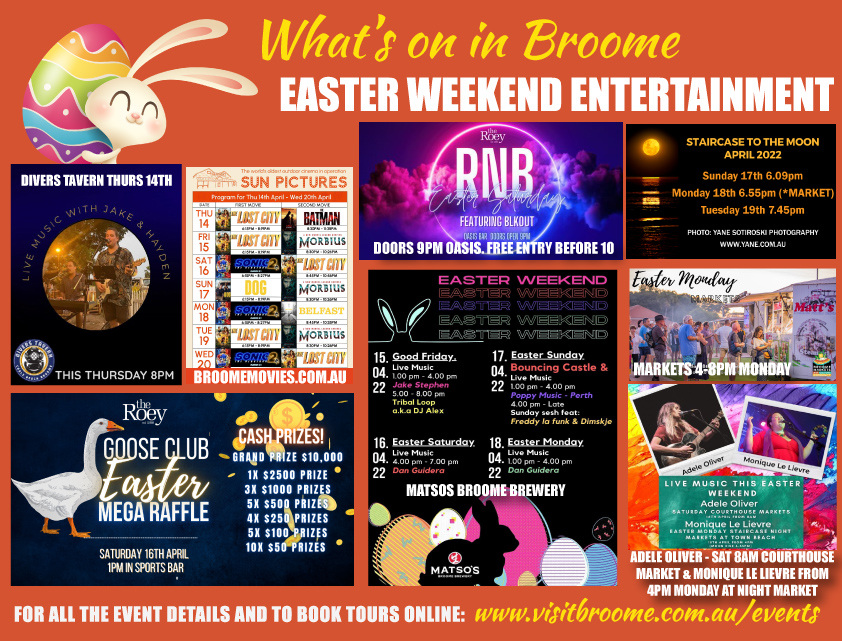 These event details are provided as information only. Please check the event details, dates and times with the event organiser as details may have changed.